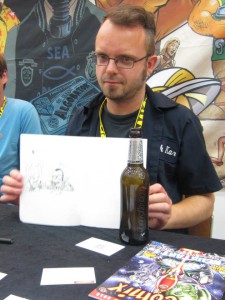 Simon Petersen, who for years has been a part of the Danish underground scene, is about to burst into the mainstream with his new book, drawn by Thierry Capezzone, called "På sporet af Kim" or "In Kim's tracks".
The book depicts the formative years of singer/songwriter Kim Larsen, who for decades has been one of the most popular musicians in Denmark.
At the Art-Bubble Festival in The Round Tower on November 14th-15th, you'll have the chance of meeting both creators.
Tickets are now on sale and you can order yours by hitting the link in the menu.