Richard J Smith fra Red Fox Comix skriver, tegner og selvudgiver tegneserier det primært handler om hans altid positve vagabond figur, Redmond J. Fox.
Disse varierer fra fuld farve ligesom de amerikanske tegneserier til fotokopierede 24-timers-projekter.
I øjeblikke arbejder Richard på en ugentlig Red Fox webcomic (hver onsdag på Dummcomics.com) og har to store samlinger af Red Fox; 'Borderline Adorable' og 'Destiny's Chewtoy'.
Richard har en mængde andre figurer, så som Dino-Might the Luchasaur, Muck Trucker, og superhelteparodierne Beef og Dweezil, men der ér jo også kun et begrænset altal timer i døgnet at lave tegneserier i!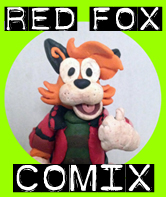 Følg Red Fox Comix på de sociale medier
All images © Red Fox Comix
Blandt Red Fox Comix' udgivelser er at finde