YVES RODIER – Tintin after Hergé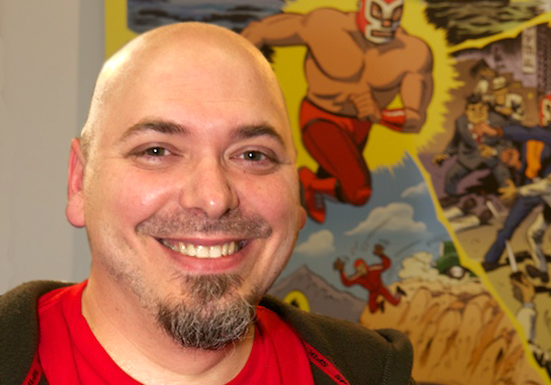 Yves Rodier (born June 5, 1967) is a french-canadian comic strip creator known for his many pastiches of The Adventures of Tintin. His version of Tintin and Alph-Art is the most well-known non official Tintin book around the world.
Rodier's work is not constrained to Tintin as he also published other books of his own creations, "Pignouf & Hamlet", (Mille Iles Editions, Quebec) "Simon Nian", an hommage to Maurice Tillieux's Gil Jourdan style of comics (Glénat Editions, France) and "The Adventures of El Spectro" (Le Lombard Editions, Belgium), a mexican masked wrestler battling mutants, monsters and mad scientists!
You can also find Yves Rodier on YouTube as he produces, directs and hosts a web series on pop culture called "Le Bébelleux Naufragé", in which he plays a castaway on a beautiful South Pacific island, where a bunch of friends visit him to talk about the history of old toys, movies and TV series.
You can easily spot him in a crowd as he usually is swearing a colorful hawaiian shirt!
Examples of published work