KRISTINA RICKENS – Live fra Lolland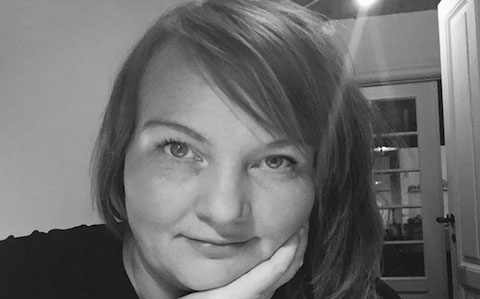 Kristina Rickens (1979) is the woman behind the popular Danish web-comic "LIVE FRA LOLLAND" (Live from Lolland). Rickens has been blogging for more than a decade, but it wasn't until after she met her "Hr. Mand" (Mr. Man), as he is know in her strips, that she began adding drawings to her blog posts. Rickens as well as her readers loved the drawings and a web-comic was born.
Rickens, herself, is the pivot of "Live fra Lolland", and as she herself says "the joke is on me and not anyone else". It is precisely that which gives her her readership. She captured the funny angles on everyday life.
As yet, two printed collections of her strip has come out "Live fra Lolland: Sandheder om Ting og Sager" (2014) and "En bog som faktisk ikke har en titel, men den handler om sådan noget kærlighed + også nogle andre ting, men mest om ting med kærlighed" (2015).
Other than "Live fra Lolland", Rickens also drew "Betty – og alle de kvinder, hun er" which ran in the weekly magasine Femina 2014-2015, and "Sallys Verden" which she does for the weekly magasine Hendes Verden.
Examples of published work