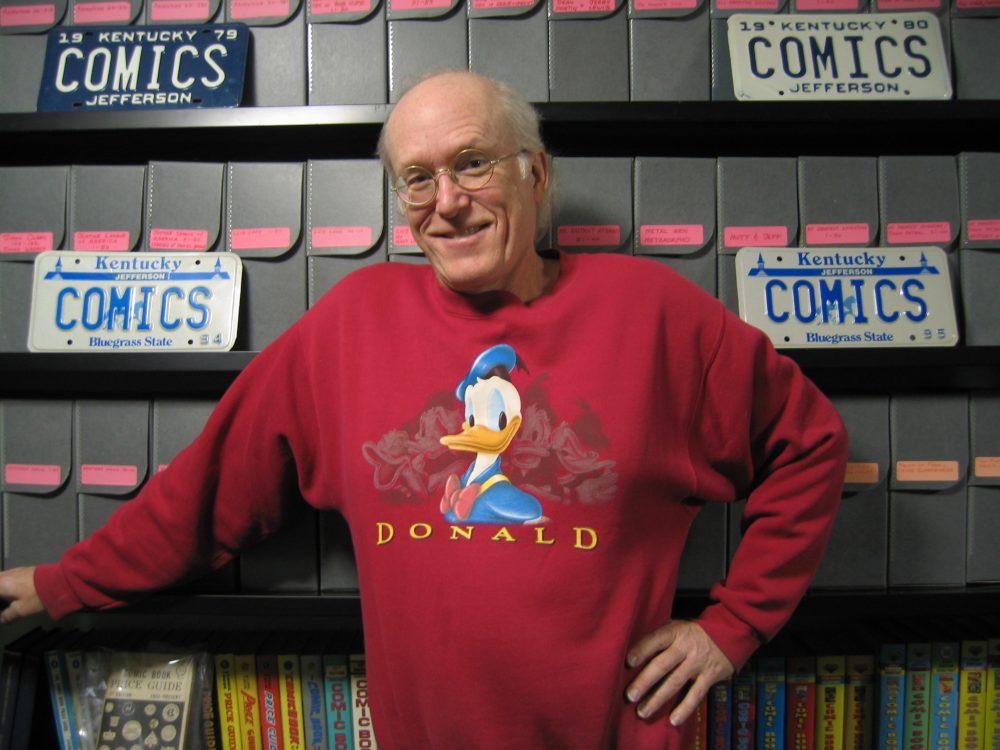 Don Rosa at Art Bubble is sponsored by:

DON ROSA was born in Louisville, Kentucky, on June 29, 1951. He was named for both his Italian-born father and grandfather, but those names of Gioachino Dante Ugo Rosa were Americanized to Keno Don Hugo Rosa. Don's grandfather, Gioachino Rosa, had immigrated with his family from Maniago, near Venice, in the early 20th Century, and founded what had become a successful construction firm, the Keno Rosa Co. From birth, it was an accepted fact that Don would eventually take over the family construction company, so his education pointed in only that direction. He attended private schools, studied engineering in college and eventually earned a degree in civil engineering.
And yet since childhood his only real interests were in comic books. His 11-years-older sister Deanna, Don's only sibling, was a comic book hoarder since the late 1940s. Therefore, literally since birth, Don was surrounded with many thousands of comic books, mostly Dells, and (like most other readers) his favorites were the Duck stories by "that good artist". His sister's comics became the most important part of his life growing up on a country estate far from playmates or other forms of entertainment.
As a result, Don started also creating his own comic book stories. He filled the blank pages of business ledgers his father brought home from work with adventure comedy stories like the Duck comics he loved. These hundreds of books of comics all still exist and could someday be compiled into a book series, if you're not careful.
Finally, around 1967 Don discovered organized comics fandom when a high school classmate loaned him copies of the ROCKET'S BLAST COMICOLLECTOR, the largest circulation comics fanzine of the 60s. Thus Don experienced two major epiphanies. The first was that his sister did NOT have every comic book ever published, and that there had been so many other types of fabulous comics like horror and SF and superhero, etc. (But still none as good as those Duck comics by "that good artist".)
The second epiphany was that the name of "that good artist" was… CARL BARKS.
As he had plenty of disposable income, working summers at the family business, Don started collecting comics… virtually ALL comics. In those days dealers would sell a comic from the late 1940s or 1950s for 35-50 cents, so he had no reason to specialize, and he loved them all. An avid collector to this day, Don has one of the most exhaustive comic collections in America, including complete runs of virtually all titles from WWII until he ceased buying new issues in the mid-80s due to lack of interest in the modern market.
Besides being a collector, Don became a well-known fan in the 1970s, writing articles about comics (as well as TV and movie) history, and creating comic stories for numerous fanzines. But by the mid-80s his time was being monopolized by the spot he inherited at the helm of the Keno Rosa Co, and assumed that would be his life's work. He packed away his art supplies, never to draw again.
Then, in 1986, several comics fans and collectors in Arizona managed to obtain the defunct rights to publish Disney comic books in America… the previous publisher having given up those rights years earlier due to the America's collapsing comics readership. Don knew this was the chance for him to do what he had dreamt of since his earliest childhood memories — to write and draw *one* "Uncle $crooge" adventure based solidly on Carl Barks' works.
Don already knew the publisher, Bruce Hamilton, and the other staff members as fellow collectors, and contacted the editor, telling him that he was *born* to write and draw an "Uncle $crooge" story, that it was his *manifest destiny*. Not being one to argue with destiny, editor Byron Erickson gave Don that chance. That story, "The Son of the Sun", was nominated as "Best Story of the Year" in the first Harvey Awards in 1988.
Due to that nomination and general fan approval, Don created one more story. Then another. Ultimately he liquidated his family's 85-year-old firm and decided that following in the footsteps of Carl Barks was more important than continuing his own heritage. He knew he could never get wealthy in the no-royalties system in which he would be working, but that was vastly less important than literally living his childhood dream.
Don soon found he could not work for Gladstone Comics due to newly imposed Disney corporate policies, but he was astonished to learn that Barks' Duck comics were still the best-selling comic books everywhere in the world outside of North America. Soon he switched from working for the world's smallest Disney comics publisher to Egmont, the world's biggest (multinational) publisher based in Copenhagen. That was 25 years ago. Since then Don Rosa has won numerous international awards including two Eisners.
For various reasons, Don ceased creating new comics in 2007, but continues to visit his fellow comics fans and collectors at American and European comic conventions, and to actively assist in special reprint collections of his Duck works around the world, but only when the publisher agrees to work with him. Otherwise he refuses to allow that publisher to use his name to market their shoddy books.
He stays more busy than ever growing vegetables (especially exotic chile peppers), mowing grass, clearing trails and feeding wildlife on a 25 acre nature preserve near Louisville where he lives with his wife Ann and two Basset hounds. And he's still working on his comic collection, trying to achieve a full set of *everything*.
Amongst Don Rosa's works you can find