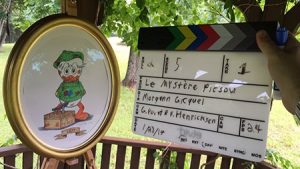 When Don Rosa visited The Round Tower in 2015, a camera crew led by Frenchman Morgann Gicquel followed close behind.
The recordings from that weekend were the start of a two year long project named The Scrooge Mystery – A duckumentary featuring Don Rosa.
Art Bubble, in collaboration with the Danish Cinematheque, are proud to present part 1 of this exciting documentary about Don Rosa, who calls himself the biggest Carl Bark's fan ever.
The Cinematheque have made it possible for 182 Don Rosa fans and other interested parties to see the documentary and prior to the screening there will be a short Q&A with Don Rosa himself, where the audience will get a chance to ask him about the film and his work these past few years.
THE SCROOGE MYSTERY – A DUCKUMENTARY FEATURING DON ROSA.
The Cinametheque November 17th at 16.30. Purchase your ticket now!
Don Rosa signing at Art Bubble – The Round Tower 2015 ©Lars Jakobsen
The director of The Scrooge Mystery – Morgann Gicquel – hard at work ©Lars Jakobsen